Name Badges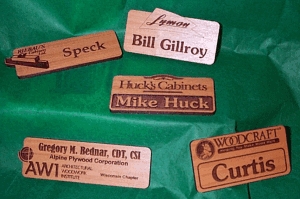 Name badges are constructed of 1/8" cherry hardwood
laser cut and engraved to your specifications. The size of a standard badge is
approximately 1.5" x 3". This size gives room for a logo and name. The price includes
a standard pin back, magnetic backs are available at an additional cost.
Plastic badges are also available at the customers request
Email logos to bdoak@doaklaser.com (tif, bmp, cdr, eps, dxf or jpg).
1.5" x 3"
Engraved Name
and Logo

First
Badge

$16.25

There
After

$6.25

1.5" x 3" Relief Engraved Name with Engraved Logo

First
Badge

$16.25

There
After

$6.25

1.5" x 3"
Engraved Name
with Engraved Ring

First
Badge

$16.25

There
After

$6.25

Magnetic Backs

$0.95